ATTENTION MUSICIANS AND PRINCE POPPYCOCK LOVERS!
And anyone else who hates cheaters, or FIXED EVENTS!!!!
If you all remember what happened to our Prince on AGT, on how we all know it was fixed and he SHOULD/DID win that season, AND if it still leaves a bad taste in your mouth, or still makes you angry as hell! PLEASE come support this musician friend of mine who is going through a similar fate with the Big Fake Monster!
Please go to the below page, read what he says, see the jpg attached, and VOTE VOTE VOTE!
There is only NINE HOURS LEFT!!! To make this official. Please, DO IT IN MEMORY OF THE PRINCE!!
If you can not see the above page, or are not a member of facebook, this is what it says.
Joe Gande shared Andrea Baskin's photo.
Good morning....there's still over 12 hours to go in this AS contest...SEEING THIS screenshot SHOULD MOTIVATE YOU ALL TO VOTE all these M@*@$(_@$I+ERS right off this website...if you had any question of what's going on on AS...or was not aware....this pretty much sums it up...take a look....
As you all know...I am a real person...a True Indie Artist...I came to this website in good faith...unknowing of its past corruption...and I have 45,000 plus votes..and have helped all my fellow artists as much as I could there for 3 months....personally voting 1000's of times for other artists...not to mention my devoted voluntary team's 1000's of votes for everyone too...I have even told and brought my musician friends to the site telling them it was a great place..
WE did this the right way....and we can still win if you all vote....we all worked our ass off for this...this company's artists including the current #1 artist and many past winners did not lift a finger to win or deserve anything....nor did they help any other artists there I might add...except for a few hypocritical lies when in trouble in an attempt to fool people....and the next artist won't either....it's all bought and paid for...
I have been taunted, my words used against me, people have bashed me and my friends and fans on my FB music page and had to be reported, they have tried to turn other artists against me by posting lies...they have called voting for other artists spam..lol ....yet they do it themselves when in trouble....I have been messaged and threatened...they dissed my city...where I come from ...saying I have no small town values...when I come from one of the smallest and oldest historical towns in the US...if they did their homework they would know better....they have tried to put in question my values and character...LOL
and have spied on me and my social network presence....all to no avail...and now they insult me by naming a winner before it is over....it's like bad political campaign full of phonies and these tactics the likes of I have never encountered in all my years on the internet and promoting my music...and I will not stand for it any longer....I chose to take the high road from day one...just doing my own thing and never bothering anyone....even voting for other artists that vote for my competitors.. but this is the last straw....they messed with the wrong person...
What do you say? Miracles do happen you know...Please..if you give a shit about what is right and true and just in this world at all....vote now and every hour today until midnight!! All of you! On to Victory I say!!! Are you with me? Thank you all so much for everything!
Love, Joe
VOTE!!!
AND BELOW IS THE PAGE THIS SUPPOSED WIN WAS POSTED ON< 12 HOURS EARLY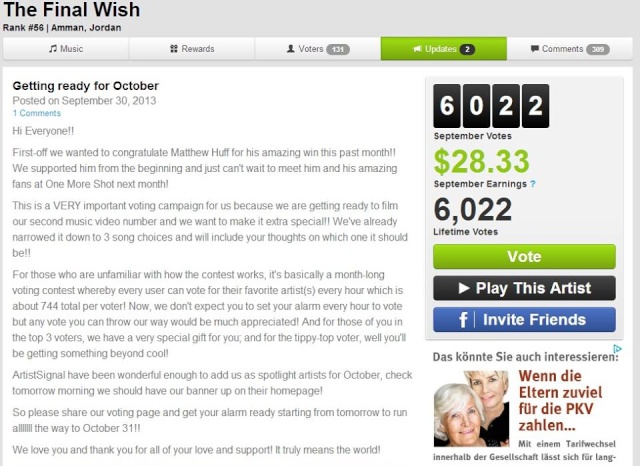 ***************************************
If your on the East Coast, be sure to sign up for
MusicRVA Social Network!